At the end of a wild Patagonia season Mikey Schafer and I packed our packs for one more climb. There had been so much warm weather that it had created crazy rock fall and we were scared for our lives on our previous new route up St Exupery. The temps had cooled, and solidified the rock a bit. Our time there was wrapping up so headed out hoping to do a new route on the steep clean North Face of Aguja Innominata (also known as Aguja Rafael Juarez).
We left Niponino basecamp in the Torre Valley before the light, and as the moon set and sun rose we ascended the gully in fresh snow.
This is one of Patagonia's small mountains, it sits low in the Fitz Roy skyline, but is also hosts some of the steepest walls in the region. I was especially excited when Mikey spotted a line on this peak, since it is one I had never climbed before.
Mikey generously gave me the first block. Otherwise I (and probably everyone else) end up freezing cold after all that hiking, and then just standing there to belay. Burr. I scampered up, scraping a bit of snow and ice off the first pitch, but as the wall steepened the climbing improved and it was clean and dry.
A ledge on top of pitch five seemed like the perfect place to change leaders, and Mikey had been looking forward to the beautiful off-width pitches that the steep headwall provided. I was happy to send him up there, especially since it was his idea to leave the big cams at home…
The wide cracks slowed us down a bit, but the sun had hit us, and the rock was as good as it gets. Mikey used some advanced tricks to keep the rope going up, he got scared a few times in the steep wide sections, and eventually found that the crack we were following thinned down to nothing. Luckily a short pendulum took us to another crack system that was even better then the first. I was having a great time following, lots of hand jams, and a few places where I had to 'batman' the rope.
Mikey's block took us to a sloping ledge where I took over, the sunlight was stolen by thin clouds as I headed up and right. I was chilled and climbing in all my cloths already. My energy was low after the steep wide climbing with the pack. A little sugar caffeine combo from a Clif Shot helped get me going. I headed in to a right facing corner, which changed in to beautiful red rock as the feature switched to left facing. This was some of the coolest climbing of my life.
As the night approached I hooked up with the 'Blood on the Tracks' route, and as the light dimmed I sped up a perfect hand-jamming crack, following it out of sight.
I ended up on lower angle terrain with my headlamp on. I wandered and wondered a bit, this way or that, a sketchy finger traverse lead to a weirdly angling off-width. I squeezed in. It changed directions, and I got out and laid it back in the dark. Every move I silently chanted to myself  'you can't fall, you can't fall.' When it is dark, I feel like the summit comes suddenly. All at once there is no where else to go but down. I love it. It makes me smile that I am so surprised each time.
The problem with the summit is that getting to the top is only half the journey. We celebrate a second but there is so much farther to go. It was Mikey's turn to lead, and so he started rappelling in to the night.
The weather was fine, cold and calm, but we managed to get our thin second rope stuck behind some mysterious loose flakes. We pulled hard, and the rope brought the flakes crashing down on a ledge 10 feet to our left. The rope was damaged but luckily we were not, and so we kept going down. Our rappels were much shorter now, and we left some extra gear to rap from, I shivered a lot. But as the sun rose, we landed safely at the base and our packs.
Under a beautiful blue sky we headed back to base camp, celebrated with our friends, packed up and kept walking. The next mission was to catch our flights to Mexico and they were leaving soon! We scrambled to make it back to town before our favorite restaurant 'La Senyera' closed at 10:30, and made it just in time to eat our hearts our. Mikey wanted to bivi in the restaurant, but we bid them 'Adios', and made one last push 4 blocks down the street and home. The next 5 days were a travel blur: packing, bus to El Calafate, flights to Buenas Aires, to Atlanta, to LA, drive to Ventrua, ditch alpine kit, pack bikini, drive back to LA, fly to Guadalajara, to Mexico City, to Hualtuco, and eventually hitch a ride to Puerto Escondito, just in time for my mom's birthday… whew. Obviously we named our route Timepo Para La Playa (Time For The Beach)…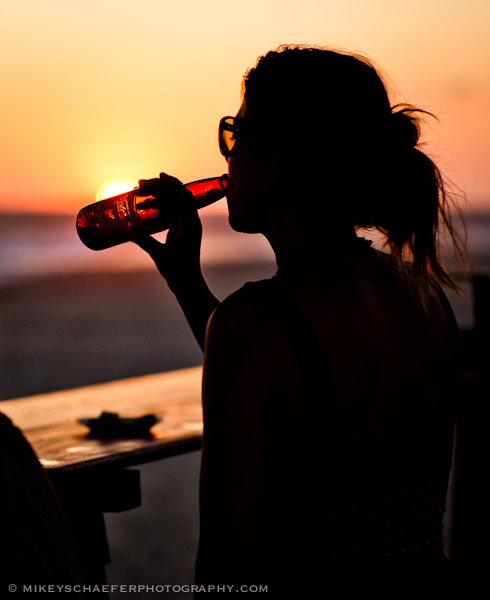 Route Details: Tiempo Para La Playa, North Face of  Innominata 5.10 A1, 450m (250m new) Doubles to #4, plus #5 and maybe #6… Descend straight down north face with two ropes.