my life in lipstick and robins egg blue (new routing adventure in Namibia)
in an hour I will be airborne, way up over the Atlantic, 15 hours to Johannesburg South Africa, and then a few more hours to Windhoek, Namibia. I packed yesterday in a flurry….. the day before I'd flown in to Portland, given a super fun sideshow in Eugene and arrived at my moms house in the wee hours of yesterday morning. This is what it looked like….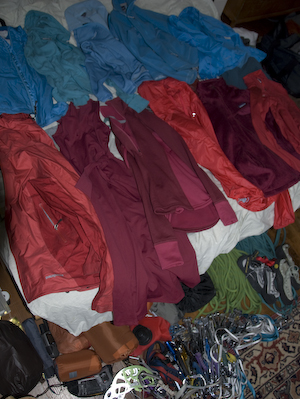 how do you choose between lipstick and blue, every other one? even numbers of both? I started seeing the desert sands, in the fuschia-pink and the sky the parched blue. It all blended really well with the #6 Camelot….. that's what really matters right.
So what do you bring to Namibia. Well, I couldn't leave the down sweater behind, the desert gets cold right. The houdini was the second thing in the bag, wind and climbing are like brother and sister. But how many tank tops do you take for a month of hot, 8? I narrowed it down to 5. And well I've already got my safari pants on, I feel like a geek, but the intercontinental pants are so light, they are perfect, they scream safari. But hey, rock climbing is kinda like a safari right?
So I stashed my binoculars next to my Miuras, and brought my Mythos too, just in case. I'm hopping that will cover whatever, slabs, cracks, boulders we find. I can now stop stressing about outfits, tents, sat phones….and move on to more important matters, like what will the food be like over there.
stay tuned….